College of the Sequoias Upgrades Vehicle Fleet with Columbia Vehicles
How hard it is to maintain the facilities of a community college, spread out over three campuses, and encompassing almost 700 acres?
Byron Woods, Dean of Facilities at the College of the Sequoias (COS) knows.
He'd tell you it's a tough job–especially when your 45 employees are dependent on old utility vehicles.
Until recently, Byron's team was driving E-Z-Go and Club Car golf carts and Taylor Dunn utility vehicles–some that were older than most in the COS student body! Cart breakdowns were common. Replacement parts and support were hard to come by. Not exactly the recipe for maintenance efficiency.
As Byron started investigating vehicles, a Cal Turf employee reached out to Byron and asked a question: Had he ever considered Columbia's Utilitruck and Journeyman vehicles?
Byron had been hearing positive buzz about Columbia. But he needed to examine the carts up close. He visited Cal Turf's Tulare showroom and came away highly impressed.
"I could see right away that Columbia's vehicles were better suited for our needs. They were versatile, customizable, and much more powerful than a standard golf cart. It's like the Columbia carts were made for the work we do on our three campuses."
— Byron Woods
Byron couldn't get over the Utilitruck's payload capacity. It was a true workhorse. And the Journeyman could move multiple workers quickly and safely. These were exactly the kind of utility vehicles his team needed.
They checked every box:
☑ Comfortable and configurable
☑ Less expensive to maintain
☑ Able to carry 1,500 pounds of cargo
☑ Manufactured in America by a respected, 70+ year-old company
☑ Pure electric
☑ Environmentally safe
☑ Noise and fume-free
☑ Built for a long life-cycle
What sealed the deal?
"Columbia struck me as a more reputable company. They offer more support, more access to parts. And if we do have issues, I know Cal Turf is just a phone call away."
"Our staff absolutely loves the Columbia vehicles. They can carry a lot of equipment."
"And another thing. The new carts have also been a morale boost. Usually, maintenance people don't get much recognition–if any. They do their work quietly behind the scenes. Few even notice all they do–until something goes wrong.
"This new fleet makes them feel appreciated. For them, it's like the COS administration saying, 'The work you do is important. It matters a lot. Here are some better tools to work with.'"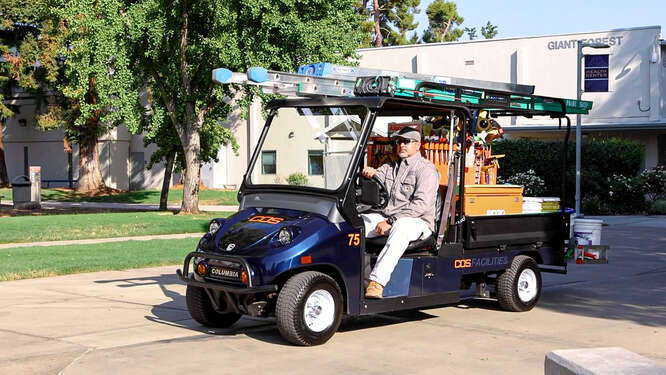 After reading about the experience of Byron at the College of the Sequoias, you probably have a few questions like:
Do electric vehicles really cost less to operate?
Figuring gas at $3.79 per gallon, a gas vehicle costs about $.24 per mile to operate.

Figuring electricity at .09 per KWh, a Columbia electric vehicle costs roughly $.03 per mile to operate. (FYI, they have a range of 20-40 miles per charge.)

The batteries used in Columbia vehicles last 3-6 years, depending on how well they're maintained and whether they are wet batteries or maintenance-free ones.

Maintenance costs on electric vehicles are lower as well–since they don't require oil changes, valve adjustments, etc.
What's the estimated lifespan of a Columbia electric vehicle?
Which Columbia utility vehicles are most popular?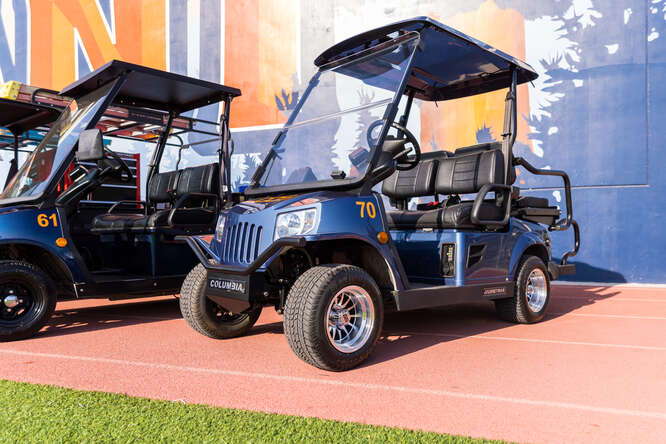 The Journeyman is perfect for hospitality teams, security details, maintenance crews, and construction sites. It can transport 2-6 people efficiently and safely. Because it comes in a street-legal version, you'll find the Journeyman is a fixture on many college
campuses.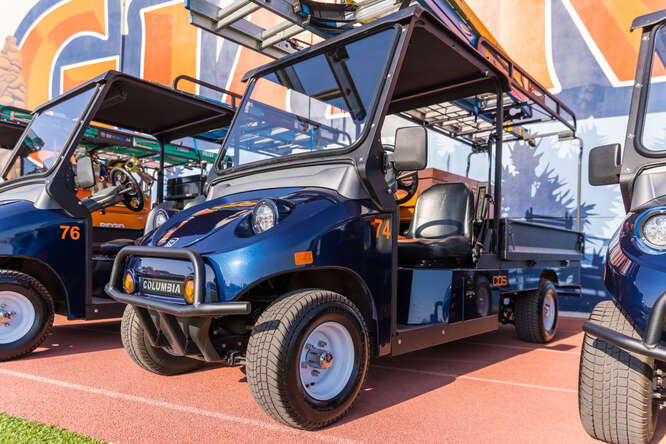 The Utilitruck can be adapted to carry up to four passengers (and outfitted for street use). However, its real strength is in cargo transport and towing. Many schools and parks departments like having the versatile Utilitruck at their sports complex.
With its all-steel design, the Payloader is Columbia's heavy-duty workhorse. Featuring a 76" bed, it can carry up to two tons of cargo and tow 18,000 pounds! Versatile and durable, it's able to go where most other heavy material handlers can't.
What makes Columbia electric vehicles the best choice for California municipalities, school districts, colleges, resorts, and nonprofits:
Superior performance. They move, carry, and tow with greater power and efficiency.
Safer. They're carefully designed with safety in mind.
Better for the environment. They produce zero emissions!
More versatile. They're customizable to meet your organization's unique needs. (You can even make most Columbia models street legal.)
Quieter. Unlike loud, gas-powered vehicles, Columbia electric vehicles won't disrupt meetings, classes, or assemblies.
Less maintenance. They don't require service as frequently as gas-powered vehicles do.
Better dealer support. When they do need servicing, Cal Turf has the parts and the technicians to limit downtimes. Your team won't be standing around.
Why not call Cal Turf right now?
Let us show you how Columbia vehicles can help your operations team achieve peak performance in transporting, carrying, and towing.
Columbia demos and grant application appointments are available from Cal Turf now!
Visit us at 956 N. J St in Tulare.

Email us at sales@calturfequipment.com

Call us at (559) 688-2505.
We'd love to help you like we helped the facilities team at the College of the Sequoias!